Wednesday, June 08, 2005
Mexican 2000
Posted by Sam at 10:45 PM
Those who know me know how much of an utter necessity the burrito is to my livelihood. Next to coffee, it's the substance that I can't imagine living without. In fact, if I was Jesus Christ, and I died on a cross for your sins, you would be drinking coffee and eating a burrito in representation of the blood and body of Sam, your savior, during communion. Ok. That's a little over the top. But I think that it illustrates the importance of burritos in my life.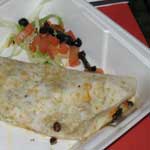 The burrito. It's the perfect food. Self-contained, packed with nutrients, made with love. This atrocity, is not a burrito. Nor was it made with anything even slightly resembling love. This, my friends, is a wad of wretchedness plopped in a styrofoam container.

This unholy beast came from Mexican 2000. No... not a burrito powered, millennium themed, giant robot wearing a sombrero (although, that would be pretty rad) whose mission is to destroy all who oppose. Nope. It came from a restaurant ambiguously named Mexican 2000. And pray tell, what did this abomination cost? Twelve fucking dollars. Yep. $12.00.

Living in Northampton, MA, I had access to three establishments where I could purchase a burrito (some more reasonably priced than others, but all were beautiful and delicious). All within walking distance too. Ahhh, it was like living in a dream. Here in Wallingford, CT, I was delighted to find Mexican 2000 well within walking distance. But what on earth am I to do with a twelve dollar burrito that looks like ass?

Snap photos, eat it, complain, and then blog about it... I guess.
Comments: 3 | Post a Comment | Permalink

That's such a very sad story. $12 for a burrito? That sux, even if it's a good burrito, IMHO. So, ya got screwed within a week. Better than you did in NOHO! Bwahahahahahahahahahahahahahahahahahahahahahahahahaha...haha..ha. Well.

I hope you find a good Mexi-joint down there, before I come and visit.
Comment By Blackwatch on June 09, 2005 9:02 AM

Mexican and American food....that would make me wonder a little. one can have a mexican resturant, and one can have an american, but mixing the two together, well that as you have proved = disaster, and heart break. i am sorry sam.
Comment By Anonymous on June 09, 2005 11:42 AM

Sam,
you blasphemy intriuges me...and I suppose that you did not "cradle" the burrito of wretchedness as per your usual custom.
Comment By TheDarkLordDerfla on June 09, 2005 7:59 PM