Thursday, May 03, 2007
Tremendous Wildebeest
Posted by Sam at 10:08 PM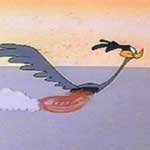 Staying in line with my most current theme (and my most passionate hobby), I'd like to bring to everyone's attention the fact that there is FREE COFFEE being distributed (for this, and most of next week) in the Quinnipiac University Law Library. All you have to do to participate in this spectacular event is simply say that you're a law student. So, if anyone asks, I'm a law student. Heck... I'd declare myself a tremendous wildebeest* if it results in free coffee.

*Yeah, I'll admit, "tremendous wildebeest" is an odd thing to declare oneself. But I'm trying really hard to work it into a blog post... cuz it's sort of an inside joke... but not a very funny one... and that's all I got... and I'm gonna go now... ZINGGG!!!**

**And just so we're all on the same page here, "ZINGGG!!!" is the sound it makes when I leave really quickly.
Comments: 1 | Post a Comment | Permalink
You are my favorite tremendous wildebeest....
Comment By Anonymous on May 09, 2007 3:50 PM