Tuesday, March 27, 2007
I'm Not Sorry
Posted by Sam at 1:27 PM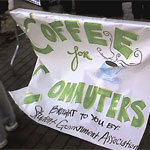 I enjoyed FREE COFFEE (yes, FREE COFFEE is deserving of all caps) this morning, just for driving my car to school. Encouragement for being lazy. Ha! In your face, beautiful spring-time weather!

Hmm... this blog is quickly transforming into a where to get FREE COFFEE blog. I can't honestly say that it's entirely unexpected though... considering my fondness for all that is free and all that is coffee.

I do, however, feel compelled to apologize for the lack of warning. Though, in all truthfulness, I'm not repentant... in any way whatsoever. But having said that, here's a hollow apology: Sorry, jerks.
Comments: 0 | Post a Comment | Permalink