Wednesday, February 21, 2007
Shut the Damn Thing Off
Posted by Sam at 10:34 AM
Author's note: I'll be the first to admit that this post is fueled largely by rage and coffee and is entirely and lovingly under-researched. But the first sentence of this post does read, "As a devoted and impassioned Mac user..." and thus, you'd be a fool to expect anything less then rage, over-caffeination, and an inadequacy of research. Having said that, please enjoy.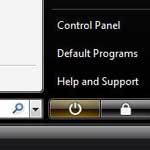 As a devoted and impassioned Mac user, the first thing that I felt compelled to do with a Microsoft Windows Vista machine (that I begrudgingly accepted an invitation to "test drive") was simply to make it go away (go away, Vista. You're too... shiny). Yeah, I just wanted to turn the whole damn thing off. I wanted to go back to my PowerBook and tell her how much I appreciate her and how I'd be a fragile, broken mess without her. But I knew better than to display weakness in front of this unfamiliar beast. And I knew that being faced with the uncluttered comfort of a blank monitor was enough to calm me until I could muster up the strength to go in once more.

Right... so all I wanted to do was to shut the damn thing off. Is that too much to ask? Well apparently it is. Microsoft, holding true to their standard practice of redefining the way things work, has decided to take the universal symbol for on/off and redefine it to mean something else... hibernate or sleep or power-nap or pass-out or whatever they're calling it now... which is anything but "off."

Damn it, Microsoft! You can't do that! You can't take the tried and true on/off symbol and make it mean something else! That's infuriating! Think of all the millions of other electronic devices that rely on the universal definition of that symbol. What if Microsoft, in their next iteration of Windows... let's call it, oh I don't know, Vomit... Microsoft Windows Vomit, decided to redefine the color red to mean "keep on truckin'" instead of what it is universally known to mean: stop. It would be chaos. Pure traffic chaos. The prolific nature of the Windows operating system is such that millions of its users will be forced to reassociate the color red with "keep on truckin'" instead of "stop." Millions will die horrible traffic related deaths... all by way of your bloody hands, Microsoft. Can you have that on your conscience? Are you powerful enough to have that weighing down on your soul? Sadly, Microsoft, you probably are. Sigh...
Comments: 4 | Post a Comment | Permalink
So, where did you test drive it?

It's possible, depending on the answer above, that there was policy applied that limited the "off" button to one function.

Also, have your recovered from this obviously horrifying experience?
Comment By Blackwatch on February 22, 2007 8:33 AM
The test drive was on campus... and it was a fresh install. Have I recovered? Well mostly. But I don't think I'll ever be able to fully recover. I mean really... that power button thing was pretty traumatizing.
Comment By Sam on February 22, 2007 10:16 AM
So glad I don't have to deal with that malarkey anymore!
Comment By TheDarkLordDerfla on February 22, 2007 6:51 PM
Sam,

You'll be happy to know that when I started to read this post and saw Mac, my brain instantly shut off.

Just like in the good old days.

But I also thought it was important to let you know I have an iBook now, and it's beautiful. How I got it is a great story too. In February I quit my reporter job and went on the road with my dad who's a trucker. We were freaken streaken baby! (I don't know what that means really, but the drivers say that over the CB all the time.) So when I came back in March, I went out to dinner with this pastor guy and his wife (friends of mine who live in my Pembroke beat) and told them about my on-the-road story.

They asked me what I was going to do now, and I said write a book about it. "Do you have a laptop?" he asked.

I didn't. Long story short. He gave me his iBook. He said, "Every artist needs her palette. You need to write. WE need you to write."

Can you believe it? So now I've got this sweet machine and have 87 pages of my book finished.

How are you man? Are you still in Wimbleton or Woolteville or whereever it was that you were living for a while?

Miss you.
Sarah 2.0
Comment By Sarah on March 31, 2007 2:29 PM