Sunday, January 14, 2007
Life Coffee is Beautiful
Posted by Sam at 1:39 PM | tags: life, coffee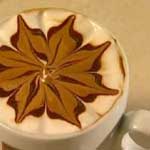 I write this as I sit, contentedly, in the cleverly titled coffee shop, koffee too?, located in historic downtown New Haven. It's a gloomy day. Gray, dreary, cheerless (my favorite kind)... and I feel elated. Perhaps, however, it's more the effects of the finely caffeinated beverage in my hand, than a tangible manifestation of happiness, exuding reluctantly from the damp January air. Ahh yes... life truly is beautiful.

And, of course, so is coffee.
Comments: 2 | Post a Comment | Permalink

wonderful. i'm about to have a cup myself.
in other news i've been listening to the brand new Therion over the past week. i think you would likey very much. might be their overall best yet!
Comment By bryan on January 15, 2007 9:24 AM

Its a proven fact by the ICR (institute of coffee research), that the more cups of coffee you drink in a day, the better your day is.
Also!
9 out of 10 surgeon generals would agree that if you smoke a cigarette with that cup of coffee, your "day great-ness" increases exponentially...
…possibly because your life shortens…
…no more like probably.

Wow that was depressing…

Time to drink some coffee.
Comment By Tom on January 19, 2007 8:38 PM