Tuesday, January 09, 2007
Needless to say, I want one. Badly.
Posted by Sam at 4:25 PM | tags: apple
I knew there was a reason that I haven't purchased a Treo yet. And yes, of course, that reason is Apple's highly anticipated iPhone. If you're new to the world of gadget lust, may I suggest donning a bib before viewing this slick device... because trust me, the drool will flow freely.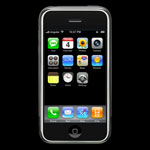 I'm not going to go over everything that this plastic and chrome rectanguloid can do... that would take a while. It does a lot. And I'm lazy. And, you know what? I'm not even going to go over my favorite features. They are plentiful. Apple has a stunning demo that explains it all. And I'm lazy. I am however, going to tell you this: I WANT ONE. I want it now and I want it badly.


And in other (more boring) MacWorld '07 news, The Steve showed us Apple TV today. Umm. Okay. I really don't care. But whatever... this year's MacWorld was all about the iPhone anyway... which even has a whole tab devoted to it on Apple's site. That's got to count for something, right? Oh... and no new large mauling cat info? Where was all the Leopard stuff? Ah well... I guess that particular cat will have to stay in the bag for just a bit longer, so to speak. (Oh my god. I'm so sorry. I just couldn't help myself.)
Comments: 1 | Post a Comment | Permalink

Wow....thats all I have to say.

Well, that and I want one.

Oh, yeah. One more thing....

You lied to me Cohen!

No iPhone...no credability is more like it!
Comment By TheDarkLordDerfla on January 10, 2007 8:03 AM