Friday, February 02, 2007
Not Art
Posted by Sam at 5:25 PM | tags: design, dark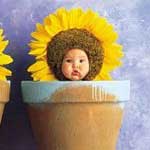 Anne Geddes is not an artist, and what she does is not art. I don't exactly know what it qualifies as, but it's definitely not art. It's unholy and disturbing (and not in the delightfully evil Danzig sort of way). Furthermore, anyone who encourages Ms. Geddes to continue with her... oh I don't know... craft?, should be punished severely. Really, all y'all who feel compelled to buy posters and calendars and all of her other assorted schlock, need to be evaluated by a professional mental physician. There seems to be something very wrong with you.

But don't beat yourself up about it. Millions fall victim to her demonic scheme daily. Yes, millions. I don't know how... drop a baby in flower pot and people get all weak in the knees... dress an infant in a bumblebee costume, and hot damn!, the masses are ready to do her bidding. Truly, it's a frightening glimpse into the future: Anne Geddes and her legion of hypnotic Bumblebee Babies leading humanity to their doom. Yeah, I'm pretty sure Ms. Geddes is Satan.

Now Thomas Kinkade, on the other hand... there's an artist whose schlock I can really get behind...
Comments: 2 | Post a Comment | Permalink
no no...Anne Geddes is definitely not art. i cant believe it took you so long to figure that out.

However D.T. has a new song you can download off the upcoming album. that's art.

also, i'm counting on you to scourge the torrents and find a leak of said record.
Comment By bryan on February 03, 2007 6:55 PM
Comment By Anonymous on May 17, 2007 12:58 PM