Saturday, April 21, 2007
If My Heart Doesn't Explode First...
Posted by Sam at 8:48 PM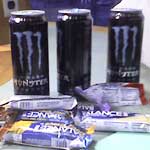 I am only allowed to leave the library tonight under one of the two following conditions:

1) I am finished with my graduate thesis, or
2) I am dead.

(I'm hoping for the first scenario... but only marginally so).

And thus, in a weak attempt to accelerate the completion of my thesis (and also, to advance the incursion of death), I have prepared the requisite dinner of power bars and energy drinks... a perfect compliment to a fine evening of academic toil.

Ahh... good times.
Comments: 2 | Post a Comment | Permalink
So. Which happened? There seems to be a general lack of movement on this blog since that post, which I hope does not mean the latter.
Comment By Blackwatch on April 23, 2007 8:16 AM
Do not die, i wanted to finally hang out after schooly school.
Comment By Jender-bender on April 27, 2007 1:18 PM