Tuesday, April 17, 2007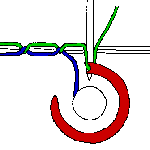 Being somewhat of a self-proclaimed sewing dork, and equally as much a cool machines dork, I was delighted (simply delighted!) to see this graphic explain, using four-color animated gif awesomeness, the stitching technique of the commonplace sewing machine. Up until this point, I was fully willing to accept satan, magic, or gnomes as logical answers to the mystery of the sewing machine question... that can be fully and succinctly articulated in the following syllable: wha?
Comments: 1 | Post a Comment | Permalink
Hey. That's really cool to see. I did not know how it worked either. Now I know. And knowing is half of...sewing?
Comment By Blackwatch on April 18, 2007 10:10 AM