Monday, December 13, 2004
What has it got in its pocketses?
Posted by Sam at 2:59 PM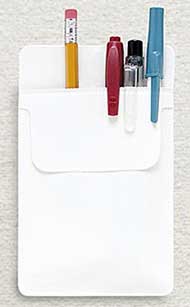 Clearly, I'm insane. This is nothing new to the people who know me well. The following inventory should be used as documentable proof of my dementia. Use it responsibly... I hear insanity is contagious.

List of things that I currently carry in my pockets at all times:
1. Keys
2. Mini Mag-Lite (attached to keys)
3. Leatherman SideClip
4. Pilot Precise V7 Rolling Ball Pen (red)
5. Burt's Bees, Beeswax Lip Balm (.30 oz.tin)
6. Sony Ericsson T-610 bluetooth camera fone
7. Wallet with all the appropriate accouterments (thanks Sarah)
8. Collapsable travel toothbrush

Total Current Weight = 1.24 lbs. (according to the FedEx scale at work)

In addition to the above, I often carry the following:
9. Palm Tungsten E with 64mb expansion card
10. 20gb Second generation iPod
11. Sharpie Fine Point Marker (black)

Total Additional Weight = 1.16 lbs.

Total Weight = 2.4 lbs.

Why do I carry so much crud around with me? I have no idea. How do my pants stay up? I have even less of an idea. What I do know however, is that I couldn't imagine facing the day without all of that stuff. What about you? How much gear do you carry around?

"Then suddenly out of the gloom came a sharp hiss. 'What has it got in its pocketses?'" - Gollum
Comments: 5 | Post a Comment | Permalink

Why don't you use that little red man-purse you made? Maybe you could sew sub-sacs on the outside of it.

I have the same problem. I use my jacket as storage. Or my computer bag, which has never once held a computer. And sometimes I clip my pen at the collar of my tee-shirt. I really dislike my wallet too. It's huge, and as you've seen, holds more bank statements than money.

Good post though.

s 2.0
Comment By Anonymous on December 13, 2004 3:48 PM

currently residing in my pants:
wallet
fist-full of change
3 dollar bills
small tub of chap stick
the gaunlet
watch
crumpled reciepts and scrap paper
lighter
cigarettes
pocket knife
Comment By manuel noriega on December 13, 2004 11:33 PM

More crud than you!
Backpack (on at all times, except when sitting):
- umbrella
-power cord
-pencil case (10 highliters, 5 pens, 1 chapstick and 1 data key, three pencils)
-Civil Procedure book
-Civil Procedure supplement
-Constitutional Law book
-Constitutional Law Supplement
-Uniform Commercial Code
-two gloves
-one hat
-handbag (lots of receipts, two card cases, change purse, 3 lipsticks, pack of gum, address book, check book, "little black" book, pill case, pen, hair elastics, part of a roll of quarters

In arms:
Contracts text
Contracts commercial outline

Laptop case:
Two file folders with paper in it
laptop

In pockets:
Keys
extra gloves
Comment By Anonymous on December 15, 2004 11:52 AM

Jeez, I thought *I* carried a lot in my pockets.
Comment By Richard on December 15, 2004 2:53 PM

Ya know what I keep in my pockets? Nothing but lint!!! And my wallet...my wallet and lint, oh yeah and my palm, and my cell phone and various hall passes that I accumulate throughout the day, and of course the obligatory gum wrapper or treasure map...but mostly LINT!!!
Comment By TheDarkLordDerfla on December 15, 2004 5:40 PM