Saturday, December 04, 2004
Obi Wan was there for Luke
Posted by Sam at 1:52 AM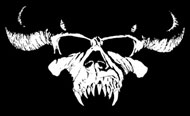 Well, I said that I'd never do it, but here I am. Posting to my blog, drunk. Drunk as a skunk. I've got "Let he who hath understanding" tattooed in black ink on the underneath of my left forearm. I think that it's pen. I hope that it's pen.

Anyway, I just spent the last half hour listening to Black Sabbath. The early stuff. The good stuff. The Paranoid stuff. I think now it's time to finish up with some Danzig. Oh, Glen Danzig, where are you when I need you? I mean, Obi Wan was there for Luke when he needed him... and he was dead! Where are you Glen? My mentor, my teacher, my master...

demon i am and face i peel
to see your skin turned inside out, 'cause
gotta have you on my wall
gotta have you on my wall, 'cause
i want your skulls
i need your skulls
Comments: 4 | Post a Comment | Permalink

For the drunken record, I'm pretty sure it's Obi Wan...the force was not with you, eh? That'll teach ya to post drunk. See? Now you've amused people and got a lesson in speeling.
Comment By Blackwatch on December 04, 2004 1:30 PM

Doh! Sean is right. Damn you alcohol! You've ruined my life for the last time...
Comment By Sam on December 05, 2004 2:11 AM

hey sweet dude... I want your skulls... and I also approve of drunken blogging... for example, I am drinking red wine out of a coffee mug at this very moment... remember when I was in love with you and lived at your house? I wanted your skulls then too...
Comment By kjwaggon on December 06, 2004 10:42 PM

Ummmm... errr... in love? With me? Skulls? What the...?

Heather did mention something about that... at some point. I really thought that she didn't know what was going on. However, now it's all so clear; it was me that didn't know what was going on. Am I really this clueless? Apparently so.

Sigh...
Comment By Sam on December 07, 2004 9:12 AM