Wednesday, November 24, 2004
Turkey doesn't do it for me
Posted by Sam at 11:00 AM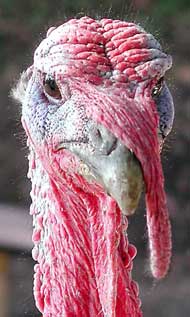 I'm not really a Thanksgiving kind of guy. Turkey doesn't do it for me. Cranberry sauce definitely doesn't do it for me. Stuffing only moderately does it for me. What does however, 100%, full-throttle, do it for me is bugging the hell out of my mom while she attempts to prepare the Thanksgiving meal.

Yep, I'm a total bastard. But, I'm a bastard full of love. Most of the time I can make my mom crack a smile at least once or twice.

You know, I'm just trying to ease the holiday tension. It's really somewhat of a tradition at this point. And who am I to break a tried and true holiday custom. The family would be lost without my guidance. Really.

One of my favorite (and most successful) Thanksgiving antics is to recite the lyrics of Bad Religion's Positive Aspects of Negative Thinking as spoken word poetry. Here, let me give you a little taste:

let's gather 'round the carcass of the old deflated beast,
we have seen it through the accolades and rested in its lea,
syntactic is our elegance, incisive our disease,
the swath endogenous of ourselves will be our quandary

(Don't feel bad, I had to look up 90% of those words too)

Anyway, this bit is especially pungent after the meal has been consumed. I've found that standing up at my place at the table, as if I am about to give some kind of post meal thank you speech, and then unleashing this nugget of goodness (it's all about the nuggets lately) really seals the deal. In fact, it's particularly effective to motion towards the demolished turkey corpse as I say, "old deflated beast."

At this point in the day's festivities, my little sister is staring at me, horrified. My mom typically has her face buried in her hands, sobbing. And my dad... well, he's helping himself to a fourth serving of whatever dish is closest to him. The other guests (of which this year, there will be many) don't really know how to respond. Some try to comfort my mom, some snicker and roll their eyes, and others nod in symbiotic agreement to the immortal words of those [educated... or at least thesaurus owning] punk rock legends. All in all, a good time for everyone. No need to thank me, I'm just doing my part.

Oh, I can't wait for tomorrow.

Happy Thanksgiving y'all!

Ok... confession time. I guess I'm not really that much of a bastard. Don't get me wrong, I do try to annoy my mom... but I've never recited Bad Religion lyrics at the table... yet. And my mom hasn't cried as a result of my drollery... yet. Although, my sister does tend to stare at me in horror... often. But it has nothing to do with my holiday tomfoolery.
Comments: 3 | Post a Comment | Permalink

I, um, well. I'd heard that turkey DOES do it for ya. Maybe I was just confused? Laird, I hope so. Be sure to feed a lot o' stuffed birdy to the puppy. The tryptophan may slow him down enough to have a more peaceful day.

A good song choice, though Hotel California maybe a good runner up, with The Lumberjack Song a close 3rd.

So, you and your family and your turkey nuggets have a happy Thanksgiving!
Comment By Blackwatch on November 24, 2004 2:45 PM

Great work!
My homepage | Please visit
Comment By Anonymous on August 04, 2006 6:16 AM

Good design!
http://fbsxlvom.com/msne/mdlq.html | http://vscbfzqc.com/twws/fssd.html
Comment By Anonymous on August 04, 2006 6:16 AM