Monday, December 20, 2004
"We Entered Winter Once Again"
Posted by Sam at 10:18 AM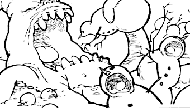 Snow! It rocks. I know it's inconvenient and wet and cold... but hot damn! I just love it. I love looking at it, listening to it, touching it, eating it. I love wearing a sweatshirt underneath my jacket. I love watching movies while it's snowing outside. I love wearing boots. I love coming inside and drinking coffee. I love tromping around in fresh snow...

I also enjoy long walks on the beach, candle-lit dinners, romantic movies, and... Oh, wait. That's for a different website.

We entered Winter once again
Naked, freezing from my breath
'Neath the lid, all limbs tucked away
This coffin is your abode from now and onwards

-The Leper Affinity (Opeth)
Comments: 3 | Post a Comment | Permalink

Please, just remember that the yellow snow is not Kosher. Or clean. Or...good tasting.

Snow is fun, but yes...it pisses me off (sad, really) that I am unable to do work. Especially since this job is so wicked easily a telecommuting task...screw you and your "getting to work" attitude! ;)
Comment By Blackwatch on December 20, 2004 10:49 AM

Did you draw that picture? It rules.

Fuck the cold. You come walk around a freezing windy Washington, DC. Get out of your damn car once in a while and take some public transit!
Comment By 不不不 on December 20, 2004 8:47 PM

Sadly, no. I did not draw that. That snow monster image is a Bill Watterson original... from Calvin and Hobbes. But thanks for thinking that I have the skills to create something that cool!
Comment By Sam on December 20, 2004 11:45 PM