Wednesday, December 22, 2004
I'm 26 and I've Accomplished Nothing
Posted by Sam at 11:00 AM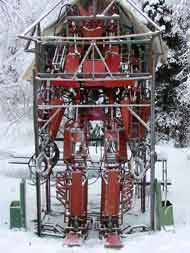 This 26 year old steelworker is in the process of fabricating a giant mechanical robot that a human will be able to operate with typical everyday movement:

"When completed, the idea is for the pilot to be able to strap himself into a central, padded compartment, and then control the mecha with the motions of his own body. When the pilot walks, the mecha walks. Raise an arm and open a hand, and the mecha does the same, with 46 possible movements planned."

Holy crap. I'm the same age as this guy and I haven't built a giant robot yet. What is my problem? I'm such a huge slacker!

This dude is constructing this feat of awesomeness in his own backward! For now, I'll make myself feel better by using that as an excuse. He's got a backyard. I don't. I mean, if I had a backyard, I'd probably have built all sorts of cool stuff by now. Damn this apartment living lifestyle!
Comments: 0 | Post a Comment | Permalink