Wednesday, December 22, 2004
Frank Miller's Sin City
Posted by Sam at 1:25 PM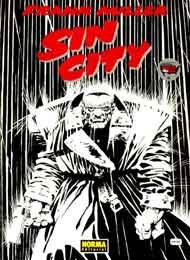 My friend Mike pointed me to a trailer for the up and coming Sin City film. Oh my god... I'm a huge Frank Miller and Sin City fan, and this trailer looks pretty nice (please hollywood, don't screw this one up. I beg you...). Some of the shots from the movie look as though they have been lifted straight from the comics too.

I'm pretty excited for this. Remind me not to let my expectations get too high though. I don't think that I could live through another DareDevil fiasco...
Comments: 4 | Post a Comment | Permalink

two posts in one day ... pure decadence!

s 2.0
Comment By Anonymous on December 22, 2004 1:43 PM

Ahh,
I have finally gotten my name in a blogger post! I rule...and so could this movie!
Comment By TheDarkLordDerfla on December 22, 2004 3:58 PM

This is probably my favorite comic...and I'm actually excited as opposed to scared for the movie's release. I read somewhere that they (meaning Robert Rodriguez and Frank Miller) shot it panel by panel.
Comment By stephanie on February 20, 2005 7:04 PM

Stephanie... I read that somewhere too. This could be promising. Also, the Constantine movie is out. I haven't seen it yet. Another non-superhero comic adaptation. Keep your fingers crossed...
Comment By Sam on February 23, 2005 2:50 PM