Wednesday, October 11, 2006
Sambert (dot com)
Posted by Sam at 12:33 PM | tags: coffee, life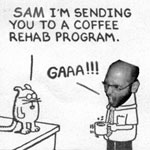 My coworkers know me well. Too well. This was fastened to the bulletin board (not bulletin board, as in BBS... bulletin board in the traditional sense. You know, cork and thumbtacks. Geez, you are one old school nerd...) when I got into work today.

Thanks y'all!
Comments: 1 | Post a Comment | Permalink

That's a good job they did on that. Really impressed at the ease and accuracy they dish out playful abuse.
Comment By Blackwatch on October 24, 2006 11:05 AM