Thursday, September 14, 2006
Brazilian Metal Makes Me Drive Fast
Posted by Sam at 1:13 PM | tags: apple, life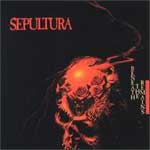 Reports are flooding in concerning the new, feature-packed, yet clunky iTunes 7. I installed the beast moments after it was released... cuz I'm like that... and I must say that I'm pleased and disappointed. Simultaneously. The Gapless Audio Playback thingy worked splendidly and sounded great. The Album Cover Finder thingy worked less than splendidly. I set it to fetch my covers overnight. When I awoke this morning, I found that it had hit the halfway point and stopped... not froze... just stopped. I could still use iTunes, but I couldn't get any covers past that point.

Fine. It's software. It happens. I'm sure I'll give it another go... but what's interesting here is the album that it got hung up on: Beneath the Remains, by Sepultura.

The two times that I've been pulled over and ticketed for speeding, I was listening to that album (what can I say? Brazilian thrash metal makes me drive fast...). So geez, what's the deal with that album!? It's like cursed or some junk.

Anyway, I'll run the iTunes Album Finder thingy again tonight. If it stops at Beneath the Remains, that Album is going straight to the thrash... I mean trash.

Interestingly, and as somewhat of an aside, the first time I was pulled over listening to Beneath the Remains, it was on an audio cassette. The second time, iPod. Talk about technological extremes...
Comments: 1 | Post a Comment | Permalink

When I had my Cougar whenever I listened to the Who cover of Summer Time Blues my digital dashboard would blow out and I'd have to take the car in to have it reset. After about the third time this happened the tech finally realized that my stereo was running on too small a fuse.
Comment By TheDarkLordDerfla on September 14, 2006 2:04 PM