Thursday, January 19, 2006
Clay For Dinner, Clay For Lunch...
Posted by Sam at 12:52 PM | tags: life
There's clay on my pants, clay in my beard, clay under my fingernails. There's clay everywhere.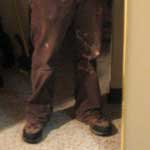 I just had my first pottery class since my last semester as an undergrad. I had to relearn how to throw pots on the wheel. I had to remember how to center the clay (that's the hardest part)... and no, it's not "just like riding a bicycle." It was awesome though. And messy. And, as much a I wanted it to be, it was nothing like that scene in the movie Ghost with Whoppi, Swayze, and Demi.
Comments: 1 | Post a Comment | Permalink

Is this a 600 level pottery class?

How many credits is it worth and where do I sign up?
Comment By TheDarkLordDerfla on January 19, 2006 2:42 PM