Monday, February 14, 2005
Songs of Love and Hate
Posted by Sam at 8:58 AM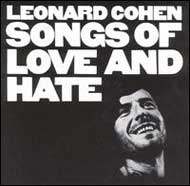 This Valentine's Day will be spent listening to Leonard Cohen's Songs of Love and Hate. The festivities will conclude with a dramatic suicide performed by yours truly. That is all.

Ok, ok... there will be no climactically suicidal end to my long 26 years of life... tonight anyway. However, I will be listening to Leonard Cohen all day long in preparation for this evening's performance at The Elevens in Northampton. They are hosting a Leonard Cohen Tribute thingy. It should be depressingly swell. If you decide to show up, please stop by and say "hi." You'll find me in the darkest corner of the club. I'll be sobbing uncontrollably...
Comments: 3 | Post a Comment | Permalink

So, how was your unadulterated sobfest? Did you gain the love and sympathy of all the noble patrons adjoining you? Did ya get a date?

Bad Sparky!

No, really, was this musiky stuff any good? I've heard of it before, but am...unfamiliar with it's inner workings.

Also, I am sleepy.
Comment By Blackwatch on February 15, 2005 8:12 AM

I spent Valentine's Day trying to morph into a cartoon character by sucking in helium and singing along to a tape of some of the best love songs from the 80's. I think, if I were to become a cartoon, I would be a cynical, love-torn (not to mention two-dimensional) being. Sure beat hanging out with:
a) parents; b) roommate and her significant other; c) a collection of Romantic Comedies starring Richard Gere.
Cheers!
Comment By Anonymous on February 15, 2005 12:45 PM

Morph into a cartoon character? That sounds great. Hmmm... I can do the helium thing but the 80's love songs is gonna be tough. Replace those with 80's power ballads... and you've got yourself a deal. Wait... are love songs and power ballads one in the same?
Comment By Sam on February 23, 2005 3:07 PM