Thursday, January 27, 2005
So Far, So Goth
Posted by Sam at 9:57 AM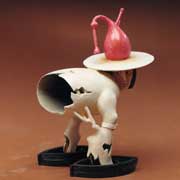 BoingBoing, the giver of everything worthwhile on the internet, has pointed us to an amazing manufacturer of sculptures/action figures of characters from classic (some surrealist) paintings. BoingBoing talks primarily about Hieronymus Bosch... one of my favs (too bad we only talked about him for about 6 seconds in Art Survey I). Bosch's depiction of evil and demons, is like no other. The traditional demon appearance; red, horns, tail, etc..., is replaced by demons exhibiting a cleverly crafted blend of human, insect, and animal features. The torturers and the tortured souls in Bosch's Garden of Delights (the right panel of the triptych) are grotesque and beautiful. So good! So goth!

Back to the point: Some of Hieronymus Bosch's most recognized characters are now action figures! You know you've always wanted to act out ghoulish scenes of morbid and surreal torture in your own living room! Now you can! Well, you could probably be morbid and surreal in your living room without the help of Hieronymus Bosch action figures... but that's not the point. The point is that now you can bring to life the horrors of Bosch's own personal hell.

Isn't that exciting? Yes, it is.

Also worth noting are the Dali, Pieter Breughel, and Escher sections. But where's the Francisco de Goya? An obvious oversight. I would love a Saturn Devouring His Son action figure playset. I would devour my own children to get one. Currently, I don't have any children... and there's probably a good reason for that.
Comments: 0 | Post a Comment | Permalink