Monday, January 24, 2005
It took them a while to find her thumb
Posted by Sam at 4:37 PM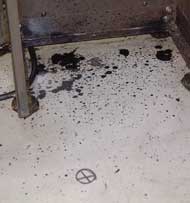 The press operator just lost her thumb in the printing press.
There is blood everywhere.
It took them a while to find it.
I called 911.
My boss picked up the thumb and put it in a bag on ice.
The press operator went into shock.
The paramedics gave her morphine and took her away in an ambulance.
My boss drew an X where he found the thumb.
I took photos.
Comments: 5 | Post a Comment | Permalink

holy fuck, cowboy... it seems to be the blood season because some guy at a party I was at recently was "thrashing" on his guitar and ripped open his fingers and was spouting blood everywhere... but I really hope your thumb lady is ok...
Comment By kjwaggon on January 24, 2005 5:08 PM

Creepy picture.

two... err... thumbs up.

s 2.0
Comment By Anonymous on January 24, 2005 6:01 PM

That is awful. Do you have any update on her? I just read this...oh, man.

"In the press?" holy crap, how did this happen. do we even know? It took me many times reading to even realize it wasn't the paper cutter...I think I almost went into shock, just reading this.
Comment By Blackwatch on January 24, 2005 6:43 PM

I work with Sam. It was pretty eventful yesterday obviously. Everyone here was awesome though. She was able to go to the hospital right away and get the medical attention she needed. Who knows what will happen now but we shall see.
Comment By Amber on January 25, 2005 12:35 PM

What can you possibly follow that with? What's the lead in to the next segment? This is my second exposure to this story and I am more disturbed this time.

Good photo work there Ansel Adams. Quality photo. Seriously.
Comment By Showroadie on January 25, 2005 8:33 PM