Wednesday, October 25, 2006
Kicking It Old School
Posted by Sam at 4:57 PM | tags: apple, technology
The iPod turned 5-years-old yesterday. What the hell am I still doing with this ancient, heavy as a brick, second generation, prehistoric iPod (circa 2001)? I'm kicking it old school... that's what!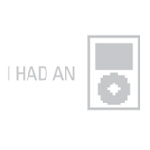 I saw a t-shirt somewhere that said, "I had an iPod before you even knew what one was." Man, that totally rings true. I can still remember five years ago when I would whip out my iPod and people were like, "Dude, what the hell is that thing?" At the time, it was pretty sexy and induced quite a few jealous stares from my gadget-obsessed, albeit uniformed peers. Yeah, I was the coolest kid on the block. Interestingly, when I whip out my iPod nowadays, I get the same, "Dude, what the hell is that thing?" But instead of my peers drooling lustfully and implying awe with their remark, they scoff at my ancient relic and comment, hurtfully, at the lack of a color display. All this, while they pull out their brand new video iPods and play some hot new movie that they torrented and transfered onto that slick device. God, I just hate them all! I hate them so much. And I hate that smug look of satisfaction on their conniving little faces too.

Right. So anyway, happy belated birthday, old friend. Hopefully you'll die soon so that I can replace you with something younger and prettier.
Comments: 3 | Post a Comment | Permalink

Hey... That sounds familiar. Oh wait. It's what my husband wrote in my birthday card last year.
Comment By Becky on October 26, 2006 2:50 AM

Wow, Sam. I'm actually a bit surprised that it still runs, what with all the battery complaints those years back.

Congrats, lil iPod, you've outlived your peers...but not your children. :)
Comment By Blackwatch on October 26, 2006 8:32 AM

Hey, I'll take it when your done...

I love the 1st and 2nd Gen iPod...so much better looking than the new ones.

Email when it poops out.

dynamac723@mac.com
Comment By brad on November 05, 2006 3:22 PM