Monday, March 06, 2006
This Li'l Pot is Making Me Exceedingly Happy
Posted by Sam at 12:14 AM | tags: life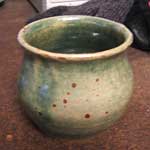 My first batch of glazed pots came out of the kiln sometime over the last week. I picked them up today. And this li'l cutie is, for some reason, just filling me to the brim with merriment. It's lumpy, lopsided, and the glaze didn't quite come out how I had intended. But, I don't care. I just love it... and it's making me want to go out and hug things. Aren't you glad you live far, far away?
Comments: 3 | Post a Comment | Permalink

looks like its just the right size for coffee...maybe you should name it 'little joe'
Comment By bryan on March 06, 2006 10:07 PM

I can't believe that I didn't see earlier... you're so right!

Li'l Joe it is!
Comment By Sam on March 06, 2006 10:18 PM

totally unrelated--- this guy who volunteers at the survival center, his daughter Katie used to live in 36 Hampton! Isn't that crazy? They totally remembered you, too! Also unrelated: I want to buy a Mac. Would you be willing to help me navigate computer lingo and point me towards what I should get? I'll buy you a burrito if you do!
Comment By w-w on March 08, 2006 8:21 AM