Wednesday, February 08, 2006
A Metaphor for Life
Posted by Sam at 10:11 AM | tags: coffee, life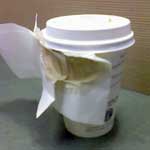 Inspired by this morning's annoyance, the following adage reads as though it was pulled straight out of a fortune cookie. I assure you, however, it was not...

A leaky cup ruins the whole experience.

(should be prefaced by "Confucius says...")

Truly, these words constitute a metaphor for life... or a bladder disfunction. Either way, that's some impressive fortune telling action!
Comments: 4 | Post a Comment | Permalink

Comment By bryan on February 08, 2006 8:06 PM

Oh... this morning's coffee cup had a leak in it, and consequently, ruined the entire coffee consumption experience. I guess this post is a tad cryptic. My bad. In my defense, however, there was more coffee on my shoes than in my bloodstream when I had originally scribed this entry... so the ol' brain hadn't quite been warmed up yet. My toes, however, they were nice and toasty!
Comment By Sam on February 08, 2006 9:03 PM

And... the shoddy camera phone photo? That's a picture of the cup with a coffee soaked napkin adhered to the side.

You know it's a good post when you have to explain it. Twice.
Comment By Sam on February 08, 2006 9:07 PM

Comment By bryan on February 09, 2006 1:03 PM