Monday, February 27, 2006
Save Your Strength
Posted by Sam at 9:28 PM | tags: apple
Whoa... It's the first one that I've seen in the wild. Mighty impressive...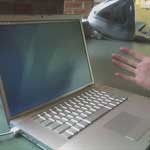 Here at my home away from home, the Quinnipiac University library, I talked with a student who was recently blessed with a brand-spank-me-new MacBook Pro. Hot! It was everything that I hoped it would be. Built-in iSight, magnetic power plug thingy, and full to the brim with Intely goodness. Yep, she was a speedy li'l Mac too.

But that's not as exciting as what's to come.

Tonight is the eve of Apple's Fun New Products announcement. Admittedly, I'm a bit disappointed to learn that the photo of the alleged new iPod Video is, in fact, a hoax. Darn. I really wanted one of those. And so did you. But fear not dear reader, Apple has something up their iSleeve... and chances are, it's gonna be slick.

'Til then, get some rest... if you can. You're going to need all of your strength for tomorrow's announcement.
Comments: 0 | Post a Comment | Permalink