Wednesday, February 22, 2006
Four Ways to Tell Tale of My Soiled Pants
Posted by Sam at 11:18 AM | tags: life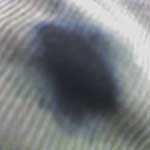 The difficulty of having only one pair of pants is that when said pants get soiled beyond all washability, which they inevitably will, the pantal occupant is forced to go without pant until a replacement can be procured. For you see, when the former occupant of the mussed garment in question, has only the one solitary set of trousers because of a finicky taste in lower bodily coverings, the likelihood of her or him having a temporary/backup pair on hand is not only improbable, but simply out of the question... as is the case in this particular dilemma.

or simply

A pen exploded in the pocket of my only pair of pants (what!? You can't tell from that awesome camera phone photo that there's an ink stain on my cords!?). What to do... what to do...

or perhaps, the answer to a timeless question

Yes, the pen is truly mightier than the pants.

or finally, a direct quote from a concerned co-worker

"Hey Sam, did a pen explode in your pocket or are you just happy to see me?"
Comments: 2 | Post a Comment | Permalink

i bought some tan man pants at old navy for 15.00 this weekend.

for mike.

not me.
Comment By Coll on February 22, 2006 6:13 PM

i thought you got two pairs of the same exact pant? what happened to those? when do we get to go on the great american pants search?
Comment By manuel noriega on February 23, 2006 11:38 AM