Thursday, October 20, 2005
Treehugging Coffee Addicts
Posted by Sam at 2:42 PM | tags: coffee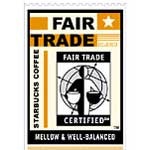 Treehugging coffee addicts of Quinnipiac University rejoice! The newly opened Starbucks, here on the QU campus, offers Fair Trade coffee. And get this, it's priced the same as Starbucks' regular (unFair Trade) coffee. Nice!

So, what is Fair Trade coffee anyway? The Global Exchange sums it pretty nicely (and of course, Wikipedia is a good source of information too). From their article: "The United States consumes one-fifth of all the world's coffee, making it the largest consumer in the world. But few Americans realize that agriculture workers in the coffee industry often toil in what can be described as "sweatshops in the fields." Many small coffee farmers receive prices for their coffee that are less than the costs of production, forcing them into a cycle of poverty and debt." Fair Trade certified coffee assures the end user that the coffee they are anxiously waiting to consume was grown, harvested, and purchased under fair conditions.

Thanks Quinnipiac. That's really cool!
Comments: 4 | Post a Comment | Permalink

actually, i believe all starbucks' (at least the ones in the city) offer fair trade.

and if you look at starbucks' web site, while not all is fair trade, they're rather decent about the business they do with coffee growers:
http://www.starbucks.com/aboutus/origins.asp

but you know what?

their coffee still tastes like shit
Comment By Dr. Kennedy on October 20, 2005 3:48 PM

Perhaps you might be interested in taking the Starbucks Challenge?
Comment By Siel on October 21, 2005 1:01 AM

If I've said it once I've said it a thousand times: "Free trade only helps the man who owns the Free Trade Sticker Factory."

I agree with the good Doctor, I like my coffee black and strong but Starbucks tastes like the pot has been scorched.
Comment By TheDarkLordDerfla on October 21, 2005 5:48 PM

I have to give Starbucks props for keeping their fair trade coffee prices on par with their least expensive, non fair trade certified offerings. At $9.99 a pound, Starbucks is giving fair trade a fair chance, at least in terms of their unground pound bags --
Comment By Siel on October 22, 2005 12:20 AM