Saturday, October 15, 2005
As Close As It's Going To Get
Posted by Sam at 5:41 PM | tags: technology, apple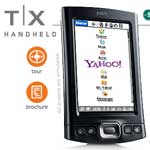 I toyed with the idea of naming this post, "I'm Writing This From the Bathroom," but I didn't want to scare anyone away. Ok... so I'm not really writing this post from the bathroom. But the point is that now, with the release of the Palm T|X, I very well could be.

A couple of weeks back, I wrote about the impending release of the wifi, bluetooth, large screen Palm for $300... I also wrote about how splendid it would be to check my email from the bathroom. How splendid indeed! Now it seems that my dream (and your nightmare) have become reality. That $300 powerhouse has been released under the T|X moniker. Although the timing could have been... well, a little better timed. The release of the T|X coincided exactly with that of the new iPod (it's quite a chore remembering not to call the new iPod a "video iPod." But, for the good of Apple's product naming conventions, I must persist!). So, overshadowed by Apple's "One More Thing" announcement, Palm's T|X slid quietly into their uninspired product line. Uninspired, until now...

This handheld is very cool. Reviews confirm that. The T|X does everything that I think a handheld should do (except mount as a USB (or bluetooth) disk). In fact, I'm so happy with the specs on this device that maybe, just maybe, for a brief moment, I can stop hoping that Apple has a PDA in the works (let's face it, it will never happen). The last Palm that I owned, a Tungsten E, synced easily with the iSync Palm conduit (iCal, To Do Lists, and Address book)... so, I can't imagine that the T|X will perform to the contrary.

Peeps, I think this is as close as it's going to get to an Apple branded PDA. I've already decided that I am going to purchase one. Now it's just a matter of when... and to a lesser degree, how. Maybe some "where" thrown in there for good measure. But fear not, I'll be sure to let you know the second it happens.
Comments: 2 | Post a Comment | Permalink

seriously look into the siemens sx66.

why have a phone AND a pda. They should do the samething. No reason to have to look a number up on your PDA and type in to your phone.

Also, take a look at the Treo lines. If you're going to be carrying a palm with you, you might as well make it a phone as well.

This beer is skunked.
Comment By Dr. Kennedy on October 16, 2005 12:54 AM

I really like this device. I love my Tungsten E but the only thing it lacks is wireless connectivity. If I had this device it would double...nay triple! My productivity levels instantly.
Comment By TheDarkLordDerfla on October 16, 2005 1:55 PM