Sunday, August 28, 2005
Smells Like School Spirit
Posted by Sam at 12:35 AM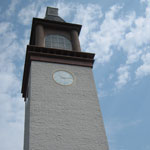 I'm officially a grad student. School started last Wednesday... well, I had graduate orientation and the first meeting of one class, anyway. I'm already swamped, but I don't mind. This is going to be an amazing experience.

I've spent the last few days sort of getting aquatinted with my new campus. This place is incredible. The lobby of the library looks like a hotel. The architecture is very impressive too (inside and out). And the campus is so green and lush! Ponds, mountains across the street, a pine forest... sure beats the trash heap that was UMass, the concrete wasteland that was HCC, and the flat brick rectanguloids that made up WSC.

In addition to being visually impressive, my new campus is technologically mind-blowing. The campus is wired from head to toe, and wireless almost everywhere... the wifi even extends into the quad.

And now as I explore the campus and talk with my fellow classmates, I find myself experiencing something that I've only ever felt on a marginal level: school pride.

Yep. I like it here. I think that I'll go buy something with my school's logo emblazoned on it. Go Bobcats!
Comments: 1 | Post a Comment | Permalink

Comment By TheDarkLordDerfla on August 28, 2005 4:00 PM