Tuesday, August 09, 2005
Not That I Would Know
Posted by Sam at 2:22 PM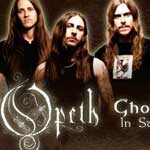 I haven't heard the as of yet unreleased Opeth album "Ghost Reveries." However, if I had heard it, I might tell you how incredibly spectacular it is. I might tell you how fantastic the vocals are, and how the clean vocals are more refined and precise yet portray raw emotion like no other Opeth CD. I might also tell you that you can hear a lot of classic rock influence in this album from the likes of Led Zeppelin, The Doors, etc. I might even tell you that track two, "The Baying of the Hounds," is ten minutes and forty-one seconds of pure bliss. I might tell you these things... but I won't because the album will not be released until August 30th, 2005. Until then, you'll just have to take my word for it... er, not that I would know... because I definitely haven't heard the album yet. Ummm... I gotta go.
Comments: 2 | Post a Comment | Permalink

ahhhh..OPeth...one of those great bands that you can pretty much trust with your life that their next album will be as good if not better than the last. a band who lays a landscape of precious sounds. worlds constructed from fabric of emotions. what a wonderful journey they give us, each a new chapter to parallel our own lives. at least that's how its been for me.
Comment By bryan on August 09, 2005 4:06 PM

Bryan... I couldn't have said it any better myself.
Comment By Sam on August 09, 2005 4:28 PM