Monday, August 22, 2005
Meet My Little Sister
Posted by Sam at 1:45 PM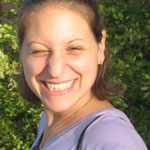 Today is my last day here in Georgia, visiting with my little sister, her fiance, and their adorable menace of a dog. Soon, this little family of hers is off to Seattle (a city I've never been to and am eagerly looking forward to exploring). Before they leave for their new Pacific Northwest residence, and before I start school, I thought that I'd visit them one last time in the very surreal South.

I've had a fantastic time here with my sister. She's the greatest! But, in order to really know my sister, you need to meet her. So blog-o-sphere, I'd like you to meet my little sister.
Comments: 6 | Post a Comment | Permalink

WOW Sam! Your little sister is the coolest! You are so lucky to have her and she I am sure is so lucky to have you! :)
Comment By Anonymous on August 22, 2005 4:10 PM

Hey... can all you PeeCee peeps out there view that video clip without too much trouble?
Comment By Sam on August 22, 2005 9:56 PM

Yes we second class citizens can view the video. Well done...I believe that this is another blogging first for you.
Comment By TheDarkLordDerfla on August 23, 2005 11:12 AM

yes sam. it works on a pc.

tell your sister i still love her even though she left me for another man.

hahahahah.
Comment By Dr. Kennedy on August 24, 2005 12:17 AM

Comment By Anonymous on August 24, 2005 1:06 PM

Hey um, nice sister.

I don't know where to put this, so here you are:

http://www.appleinsider.com/article.php?id=1247

If you have a first-generation iPod you might be getting $25
Comment By Adamu on August 26, 2005 10:40 PM