Tuesday, May 10, 2005
More Than Meets the Eye
Posted by Sam at 12:17 PM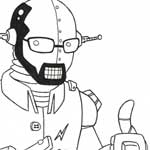 Check it out! One of my very talented students drew this. It's a caricature of me transformed into a robot... a Sambot, if you will. Very cool! The artist, Sean Conchieri (I'm not sure if he has anything online... if so, I'll post a link) has a promising illustration career ahead of him. You should see some of his more formal work... very impressive.

Thanks Sean!
Comments: 2 | Post a Comment | Permalink

Very nice drawing! Although I am not sure it is a good idea to have others feeding into your Cybernetic fantasies.
Comment By TheDarkLordDerfla on May 10, 2005 1:08 PM

Comment By Dr. Kennedy on May 12, 2005 7:02 PM