Thursday, April 28, 2005
Roll Call
Posted by Sam at 1:23 PM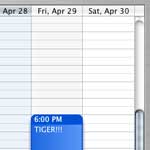 Well peeps, tomorrow is the big day. This is it. The festivities begin at 6pm (not 9pm as I had once reported).

So now it's time to ask thee this: Who among you is with me? Who is strong enough to stand for hours amidst the huddled masses of Macintosh enthusiasts? Who will brave the drive through Hartford during rush hour? Who will go and fetch me coffee when the need for caffeinated nourishment grows too great? Who will stand proudly by my side as we wait, for eons, as passersby taunt and poke us (verbally) with pointy sticks of beleaguerment?

Will it be you, comrade? Do you have what it takes? Make me proud, soldier. Make me proud.
Comments: 4 | Post a Comment | Permalink

I'll see ya there, perhaps.

In the meantime, read Siracusa's review:

http://arstechnica.com/reviews/os/macosx-10.4.ars/1
Comment By Dan on April 28, 2005 2:32 PM

Six O'clock!

You lied to me Sam!

Am I to be denied my pod?
Comment By TheDarkLordDerfla on April 28, 2005 3:36 PM

This post has been removed by the author.
Comment By TheDarkLordDerfla on April 28, 2005 3:36 PM

Comment By manuel noriega on April 29, 2005 12:17 AM