Wednesday, April 20, 2005
Breaker One-Nine, This Here's the Rubber Duck
Posted by Sam at 9:43 AM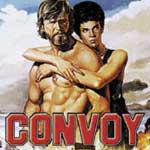 Apple will indeed have "special events" planned at Apple Stores for the April 29 Tiger release. The events (most probably include the privilege of being whipped by Tiger trainers (a.k.a. Apple Store employees) while waiting patiently to be let into the store) will begin at 6pm Cupertino time. For us here on the eastern coast, the special events will commence at 9pm. I think. I'll have to double-check that.

There is a convoy being organized. Yep, a great big convoy. It'll be rockin' through the night. Or, at least to the Apple Store in Connecticut. So far, the convoy consists of four people carpooling to the Westfarms Mall. You want in? Send me an email... oh, and if it's not too much trouble, call me the Rubber Duck.

Hmmm... in retrospect, this won't be much of a convoy. It'll be more closely related to a field trip. In a cramped compact sedan. Full of special people. Who don't get out much. It'll be a hoot!

'cause we got a great big convoy
Rockin' through the night.
Yeah, we got a great big convoy,
Ain't she a beautiful sight?
Come on and join our convoy
Ain't nothin' gonna get in our way.
We gonna roll this truckin' convoy
'cross the u-s-a.
Convoy!
Comments: 3 | Post a Comment | Permalink

you are the biggest nerd i've ever loved.
Comment By Dr. Kennedy on April 20, 2005 12:58 PM

i am soooo happy you learned the rest of the lyrics to that song. so very happy.
Comment By manuel noriega on April 21, 2005 2:05 AM

Awww... schucks. Thanks Dr. K.

Wait a minute. "Biggest nerd?" I know I've packed on the pounds since I've the desk job... but come on now...
Comment By Sam on April 21, 2005 8:40 AM