Wednesday, April 13, 2005
Droning On
Posted by Sam at 4:26 PM
The first Tiger thing that I'd like to gripe about... and yes, this is a bit nitpicky... is the raw ugliness of Apple's Tiger page. Take a look for yourself: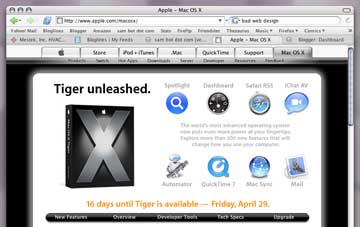 For a company so dedicated to quality design, I'm surprised that they let this atrocity pass. Ok... I have seen worse. But, this is Apple that we're talking about. The Tiger page is wholly uncharacteristic of Apple's typical standard of aesthetic integrity. Their design team rocks! But this... well, it looks like it was slapped together by an intern. Ouch...

I'll spare you the entire rant. Click here to read me drone on and on about design structures and consistency and blah blah blah. (Gee, I really sold that well. You know it's good writing when the author advises his audience not to read his own work.)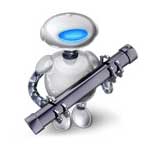 In an effort to counterbalance my gripe, I offer this: Isn't the little Automator robot guy (included in the upcoming Tiger release) just the cutest thing? Look at him holding that shiny piece of tubing... I just want to hug him until his adorable little blue cyclop eye dims to a cold, dead, empty blackness. So cute!


Comments: 1 | Post a Comment | Permalink

The Automater robot: Where all the iPucks ended up. (seriously, his looks like an iPuck)
Comment By Blackwatch on April 14, 2005 8:17 AM