Friday, February 25, 2005
Technical Thingies
Posted by Sam at 9:20 AM
Ok... I'm back. Did you even notice that I was gone?

Anyway, I just made the move from iPowerWeb to Lunarpages. Why? Well, duh! Check out the slick front page at Lunarpages:



Compare it to the drab iPowerWeb home page, and I think my reasoning will become obvious: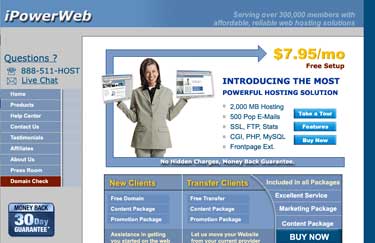 I don't know about you guys, but I choose my web hosting company solely on the coolness of their home page. I mean, that's what's important, right? Who cares about all of those lame stats and numbers. 12% Uptime this, 7000 FTP accounts that... lame! Just give me a cool flash demo on a high tech home page, and I'm sold! Hook, line, and sinker.

The real reason for the switch was because iPowerWeb was sticking to their offer that I signed on with from two years ago... even though their current hosting package is twice as good for the same price. That, and I wanted to take advantage of Lunarpages' add-on domain hosting thingy (along with a few other technical thingies). We'll see how it goes. It's the same price for more thingies... so what have I got to lose?

Comments: 3 | Post a Comment | Permalink

Sam,
I noticed you were gone during the boring stretch at the Library...but I started reading up on Flash animation. Still somewhat intimidated however.
Comment By TheDarkLordDerfla on February 25, 2005 9:26 AM

Dude.

Why didn't you consult me first?

I could have hosted you FREE and handled all that shit for you.

Sucker
Comment By Dr. Kennedy on February 27, 2005 7:03 PM

We use Lunarpages over at www.mutantfrog.com and it works out just fine. Good luck to you!
Comment By 不不不 on March 02, 2005 12:37 PM