Saturday, July 16, 2005
Sometimes My Nerdiosity Amazes Even Me
Posted by Sam at 1:37 AM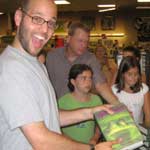 At 12:01 a.m., my little sister and I somehow managed to be the first in line at the local MediaPlay, where they were selling hundreds of Harry Potter and the Half Blood Prince books to screaming 14 year olds... along side one screaming 27 year old, of course.

Yes, I walked proudly to the check out counter (actually, we had to run... and I may have shoved a pre-teen girl into a DVD display. But amidst the chaos, it was hard to see whom I shoved). I held in my grubby little paws one of the first copies of the latest volume of the Harry Potter series to fall into the hands of the consumer populous. And I could feel the dark side of the force flowing through my wand... Oh, wait. I'm mixing nerd cultures. How embarrassing.

How we got in the first place spot is beyond me. I guess that we were just standing in the right place at the right time. They basically announced that the line would form where we were standing. Why we were there at midnight is also beyond me. It was an afterthought really... I had a gift certificate from last Hanukkah... my little sister thought that MediaPlay might be doing a midnight Harry Potter thing. And well, you can figure out the rest.

I do feel a bit guilty though. I mean, I'm really not a big Harry Potter fan at all. I read the books... they're fun. But that's where my fanaticism ends. There were many others in line that were far more deserving of the coveted first place spot than I... or were they? Hmmm...

Well then, I guess the bottom line here is that they lose. And more importantly, I win. Suckers! Eat my dust you muggle-humping morons! Harry Potter loves me more! He chose me to be the first to accompany him on his grand adventure. So, step off cuz Hagrid's got my back! Don't make me get all Voldemort on your ass. etc...
Comments: 3 | Post a Comment | Permalink

I can't believe that you mixed those two particular metaphores...how risque!!!
Comment By TheDarkLordDerfla on July 16, 2005 9:10 AM

First off, talk of anything flowing through your "wand" is messed up. Go, get some pennicillin, you'll feel better.

Second, you are going to pull a Voldemort? You mean...setup a sinister scheme that can be thwarted by teens? You were surrounded by teens, ya know...silly muggle.

Good job on t3h kickin' butt and getting copy #1 in that store!
Comment By Blackwatch on July 18, 2005 9:22 AM

You truly bring the term NERD to a new level Sam. Congrats.

Amber
Comment By Amber on July 18, 2005 4:21 PM