Thursday, December 15, 2005
Setting the Record Straight
Posted by Sam at 9:23 PM | tags: life
Okay people... last time. I don't look anything like David Cross. There is no resemblance what-so-ever. See: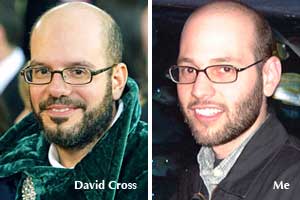 Nothing at all. Now quit bugging me.
Comments: 8 | Post a Comment | Permalink

This is easily the funniest thing you have ever written. Besides I just don't see it.
Comment By TheDarkLordDerfla on December 16, 2005 12:27 AM

HA! sam, the resemblance had never ever crossed my mind..unfortunately, now that youve drawn my attention to this dilemna, how can i avoid the comparison?!!?!?
Comment By bryan on December 16, 2005 10:08 AM

Sam, not to get all SAT on your ass, but:

Sam Cohen is to David Cross as Harry Hannukah is to Santa Claus
Comment By Dr. Kennedy on December 16, 2005 10:30 AM

I just don't get it. Where does Dominic the Italian Christmas Donkey fit into this?

I'll say, at least you don't look like these guys.
Comment By Blackwatch on December 16, 2005 1:28 PM

the dude totally bit your style.

did you photoshop his glasses on?--they're exactly the same as yours!
Comment By s2.0 on December 16, 2005 3:47 PM

Nope... no Photoshopping. I swear on David Hasselhoff's legendary crotch, that this is the real deal. The weirdest thing is that I had a photo of myself in the exact same position that Mr. Cross is in. Weird...

Coincidence? Or is it destiny...
Comment By Sam on December 17, 2005 1:07 AM

Comment By w-w on December 17, 2005 2:50 PM

I have been looking for sites like this for a long time. Thank you!
Presentation mcse Training tools com microsoft front page Card design discover Ics microsoft certification paintball regulator Mcse xp car insurance Cheating house wives mcse Mcse practice test Jack subaru Morphine no pain relief Lovastatin effectiveness cholesterol Course golf michigan southeastern Mcse subjects Poker and horse ebook cover software mcse course
Comment By Anonymous on August 21, 2006 4:19 AM